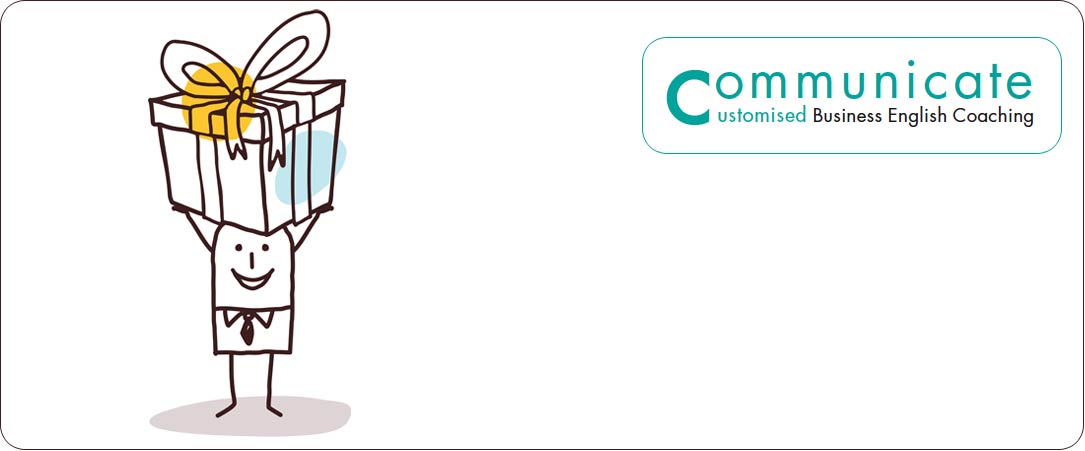 Aktuelle Angebote
Unser Angebot zum Kennenlernen
Wir schenken jedem Interessenten 1 GRATIS Schnupperstunde!
Kontaktieren Sie uns, um Ihre 60-minütige Gratis-Schnupperstunde (Gruppe- oder Einzelunterricht) zu buchen.
Nehmen Sie zusätzlich unser super Neukunden-Angebot wahr
Wir bieten Ihnen 25% RABATT auf ALLE Kurse bei der ersten Buchung bei Communicate!
Unser Sommer 2019 Angebot für Communicate Kunden
10% Nachlass "Effective Communication Seminars"
Vom 1 Juli 2019 – 30. September 2019 bieten wir allen Communicate Kunden einen 10% NACHLASS auf unser "Effective Communication Seminars" wenn Sie 2 oder mehr Seminare für das Jahr 2019 buchen.*
*gilt nicht in Verbindung mit anderen Angeboten
Kontaktieren Sie uns um mehr zu erfahren.
Our Current Offers
Get to know Communicate
Try before you buy with our FREE TRIAL LESSON!
Contact us to book a free 60-minute trial lesson (group or one-on-one).
Enjoy our special offer for new clients
25% DISCOUNT off ALL COURSES when you make your first booking with Communicate (Also valid for multiple course bookings).
Our Summer 2019 Offer for Clients of Communicate
10% OFF "Effective Communication Seminars"
From 1st July 2019 – 30th September 2019 we are offering all clients of Communicate  a 10% DISCOUNT off our "Effective Communication Seminars" when you book 2 or more seminars to take place in 2019.*
*cannot be combined with other offers/discounts