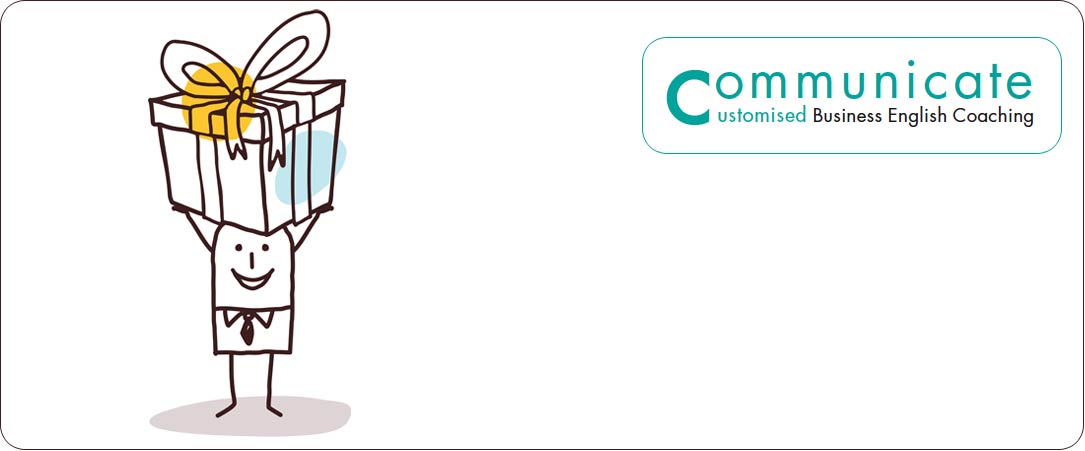 Aktuelle Angebote
Unser Angebot zum Kennenlernen
Wir schenken jedem Interessenten 1 GRATIS Schnupperstunde!
Kontaktieren Sie uns, um Ihre 60-minütige Gratis-Schnupperstunde (Gruppe- oder Einzelunterricht) zu buchen.
Nehmen Sie zusätzlich unser super Neukunden-Angebot wahr
Wir bieten Ihnen 25% RABATT auf ALLE Kurse bei der ersten Buchung bei Communicate!
Unser Winter 2020-21 Angebot für Communicate Kunden
10% Nachlass "Effective Communication Seminars"
Vom 01.12.2020 bis 28.02.2021 bieten wir allen Communicate Kunden einen 10% NACHLASS auf unser "Effective Communication Seminars" wenn Sie 2 oder mehr Seminare für das Jahr 2021 buchen.*
*gilt nicht in Verbindung mit anderen Angeboten
**auch für Online-Seminare!
Kontaktieren Sie uns um mehr zu erfahren.
Our Current Offers
Get to know Communicate
Try before you buy with our FREE TRIAL LESSON!
Contact us to book a free 60-minute trial lesson (group or one-on-one).
Enjoy our special offer for new clients
25% DISCOUNT off ALL COURSES when you make your first booking with Communicate (Also valid for multiple course bookings).
Our Winter 
2020-21 
Offer for Clients of Communicate
10% OFF "Effective Communication Seminars"
From 01.12.2020 to 28.02.2021 we are offering all clients of Communicate  a 10% DISCOUNT off our "Effective Communication Seminars" when you book 2 or more seminars to take place in 2021.*
*cannot be combined with other offers/discounts
**also valid for ONLINE seminars!